As a homeowner, you want your yard to be functional, attractive, and low-maintenance. Retaining walls can help you achieve these goals by providing several benefits. In this post, we'll explain what retaining walls are, why they're beneficial, and how you can use them to enhance your outdoor space.
Eco Design Landscaping transformed my backyard and I'm thrilled with the results! With the addition of a new paver patio and retaining walls, my yard is now not only beautiful but also functional. The retaining walls help prevent soil erosion and create more usable space. I'm forever grateful for their help and highly recommend Eco Design Landscaping to anyone who wants to enhance the look and functionality of their outdoor space!
What Are Retaining Walls?
Retaining walls are structures designed to hold back soil and create level surfaces in sloped areas. They're typically made of materials like stone, brick, or concrete, and can be designed to complement the style of your home. Retaining walls can be used for a variety of purposes, including preventing erosion, creating more usable space, improving drainage, and enhancing curb appeal.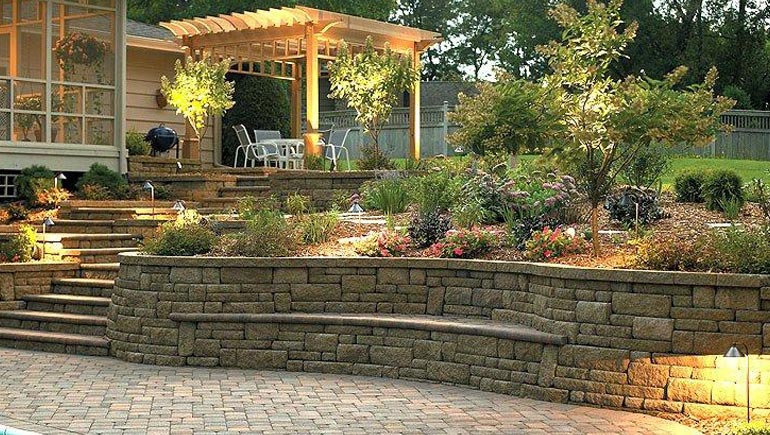 Prevent Soil Erosion
If your property is on a slope, retaining walls can prevent soil erosion by holding the soil in place. This is important because erosion can cause damage to your property and create safety hazards. Retaining walls act as a barrier that keeps soil from washing away and helps maintain the integrity of your yard.
Create More Usable Space
Retaining walls can also create more usable space in your yard by leveling sloped areas. This can allow you to build patios, gardens, or other outdoor living spaces that were previously inaccessible. By creating more functional space, you can enhance the enjoyment of your outdoor space and increase the value of your property.
Improve Drainage
Another benefit of retaining walls is improved drainage. If your yard is prone to flooding or standing water, retaining walls can redirect water flow and prevent damage to your property. This can help prevent erosion, water damage, and even mosquito infestations.
Enhance Curb Appeal
Retaining walls can enhance the curb appeal of your home by adding visual interest and texture to your yard. They come in a variety of materials and designs, so you can choose the option that complements your home's style. Additionally, retaining walls can add value to your property by creating an attractive and functional outdoor space.
Increase Property Value
Finally, retaining walls can increase the value of your property. By enhancing the functionality and appearance of your yard, you can make your home more appealing to potential buyers. Retaining walls are a durable and long-lasting investment that can add value to your property for years to come.
In conclusion, retaining walls are a versatile and valuable addition to any home's landscape. By preventing soil erosion, creating more usable space, improving drainage, enhancing curb appeal, and increasing property value, retaining walls can help you achieve your outdoor living goals. If you're interested in adding a retaining wall to your property, be sure to work with a professional landscaper like Eco Design Landscaping to ensure that it's built correctly and effectively.